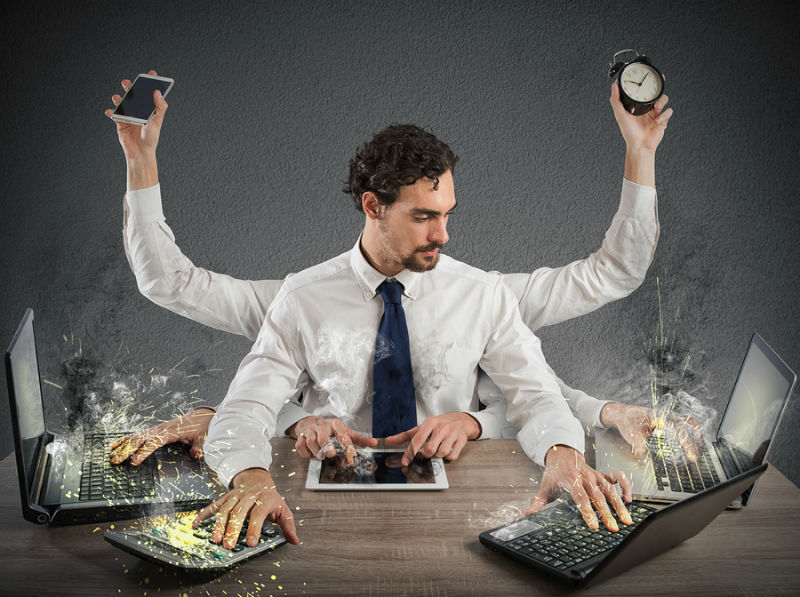 Help I am too busy – what to do about this "good" problem.
A good problem is still a problem and whilst you are growing, increasing sales, personnel, and activities, being too busy will definitely be a problem.
If you aren't growing then you might be thinking "I would love to have too many customers", but having too many customers, orders or jobs on the go can lead to:
One client of mine periodically ceases to trade to catch up with delivering and producing orders.
There are much better solutions to being too busy than ceasing trading and here they are:
Figure out what you are trying to achieve

– The first thing to do is figure out what you want the business to be in 5 years' time. What do you want the business to become? If you want to maintain the business at its current level then great; if you want to grow it, great. Whatever the aim make sure you and your team know it and work towards it.

If you want to maintain the business then why are you busting a gut and doing too much; it's time to ease back. 

Put your prices up – Chances are that if you are so busy you can't cope, then you are too cheap. People love a bargain and if your prices are lower than the market value then people will flock to you. So why not experiment with your prices. Put your prices up by 20% each month and see what happens. If your sales don't slow down, then you are definitely too cheap. If this sounds too drastic then try one or two products or services. One of my clients recently priced a job incorrectly and put the job out there at 50% more than they normally would. They won the job!

Get some help – No one can run a growing business without help. Do not try and do it all yourself. So get help either by employing someone or outsourcing some functions. A great example of this is your bookkeeping – never do you own. Find a Xero Accredited Bookkeeper and get them to do it. 

Systemise – System stands for Save Your Self Time Energy & Money. If you are going to delegate to your new found employees, then firstly you should document the processes you want them to follow. This will mean they won't make it up as they go along and you will be confident they are doing it your way.

Time Management – Organise your day more efficiently. Do the most important things first thing in the morning and then plan your day, month and year to make sure you achieve everything on the agenda.
Growing and scaling a business is not an easy task – it's a commitment and takes planning, but there is one thing for sure. If you attempt it without considering the points above, you will struggle.
The outcome of being too busy and piling on more and more is either the owner having a breakdown and giving up, ceasing trading, or letting so many customers down, the business stops anyway.
Get it right and the sky is the limit.
HOW WE CAN HELP
I have written a book to help you scale your business and the Introduction and 1st Chapter are available here > The Organised Business
FREE BOOK
If you would like a copy of the book for FREE* follow this link > FREE* BOOK OFFER