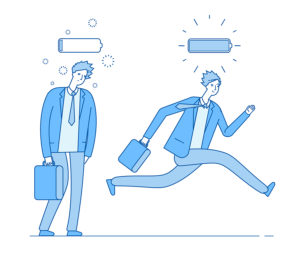 Do you ever feel like there is just too much do and not enough time to do it? Or that you just have so much on that you feel overwhelmed and have no idea how to move forward?
It can happen to any of us at some point, and once you get into that place in your head when everything feels like it is in the "too hard" box, it can be difficult to snap out of it, and it is only you who can make the mindset change to get motivated.   To help you on your way, here are some tips that will help you to get organised and focused on getting through a tough spot.
Think about the big picture – what are you trying to achieve? When you start thinking about your vision, it will focus your thoughts onto what really is important and meaningful to you.  Don't waste your time working on things that will just not add value to you in the long run.
Make a plan. It often takes up more energy just thinking about all the things that you need to do that it does doing them.  Make a to-do-list, and then prioritise the tasks in order of urgency and importance, keeping your Vision in mind when you do it. Smarten that list up by noting how you will do each task and when by.  Make sure you review your plan often.
Do one task at a time. Juggling multiple projects is normal these days, but you need to make sure that you finish things – and that will only happen if you focus on one task at a time whilst you are feeling overwhelmed.  This is simple advice that your Mum would give you, but it works!
Talk through your problems with someone. Talking about how you are feeling at work sometimes gives you the kick up the behind that you need to get things moving forward.  They may give you the guidance you need on how to tackle your problems, and the conversation will also help you to reflect on what you need to do to get your mojo back.
Do things you enjoy doing (but not only those things!) Make sure you build into your time things that you enjoy doing.  That little "work, rest and play" saying is important to give you some balance in your work life.
Celebrate your successes. Make sure you recognise that you are making progress and achieving your goals.
If, after all the above, you are still feeling lost at work, you may need to make a change.  Being overwhelmed can lead to feeling anxious and stressed.  If you do find yourself in that position, there are many supportive and helpful coaches, career coaches and even hypnotherapists out there who can give you additional guidance to help you get back on track.
At The Organised Business, we help business owners to build better businesses.  We can help them to create a Vision for their Business and a Plan on how to get there.  We also run a peer to peer support group, The Board, getting like-minded business owners together to discuss their experiences and issues – we appreciate it can be lonely running a business.
For more information contact us and we will be happy to help